Work
All of what inspires me I try to express in my work and I hope that my work inspires others.
The choice of subjects varies, depending on what I see, usually in my direct surroundings. Part of my work is about portraying animals. It's about being aware of them around us, their personality and energy, like you can be aware of a human's personality. Animals are portrayed in different positions with or without a detailed background. In this background you will sometimes find common objects, fantasy or objects that are depict because of their symbolic meaning; it's the love for fairy tales, folklore, all kinds of stories that is expressed here.
Another big inspiration is the natural world in which we live, from flowers, trees, to whole landscapes. I love to travel (whether it's far away or close to where I live) and see new landscapes, different lights, colours etc.
I work from a collection of ideas, photo material and sketches. The paintings are mainly in oil, sometimes acrylic or mixed media. Often on panel and larger ones on canvas. The brushstrokes are quiet loose and I love to be able to still see them. I try focusing on a few areas and leaving other parts more 'unfinished' to give the work the freshness and openess that I want. The works on paper are mostly a combination of charcoal, pencil and ink.
Further more I love to visit museums and look at work of other artists (mainly painters) who are a great inspiration. There are many more, but just to name a few who's work I admire: Rembrandt van Rijn, Lucian Freud, Vincent van Gogh, Ilja Repin, Stanley Spencer, Arthur Rackham, Paola Rego, Patricia Piccinnini, Jan Mankes, Claire Basler, Pieter Pander, etc. etc.
Besides my own work I love to do assignments (animals portraits, murals)
This website shows a selection of my work.
Enjoy and don't hesitate to contact me if you would like some further information.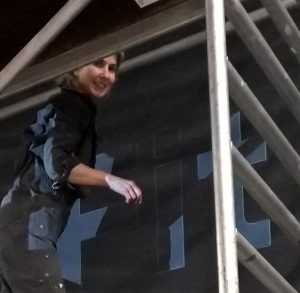 CV
1991-1993 Design Academy Eindhoven
1994-1996 Working and living in Australia
1997-2000 Institute of teacher and school Arnhem (ILS), Nijmegen (graduated)
2001-2004 Art Academy (Artez) Arnhem, painting and sculpture (graduated)
2005-2006 Works and lives in Portugal
2007-2013 Works and lives in Portugal and the Netherlands
2014-2015 Works and lives in Portugal
2016- Works and lives in the Netherlands